Full Mouth Rehabilitation in Chevy Chase, MD
There is a myriad of reasons why you may need full-mouth reconstruction. Sometimes severe decay can take its toll on our smile, wreaking havoc on our teeth. Or you may have had a severe accident that caused direct injury or trauma to your smile. Whatever the reason, if you're looking for a way to completely makeover your smile and regain confidence in your appearance, our dentists offer full-mouth rehabilitation to give you the smile that you once thought impossible.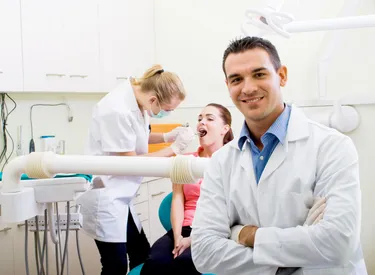 What is full-mouth rehabilitation?
Full-mouth rehabilitation usually involves a variety of general, cosmetic, and restorative dentistry. We often recommend certain types of dental work like dental crowns, bridges, or veneers to improve both the function and appearance of your smile. We may also need to treat gum disease, an infected tooth (root canal therapy), or place braces to straighten teeth.

What should I expect during my full-mouth rehabilitation?
If you think your smile could benefit from full-mouth rehabilitation, the first thing you will want to do is see our dental team for an evaluation. During your evaluation, we will perform a thorough oral exam and then map out which treatment options are going to best fit your needs to help you achieve your ideal smile.

We will look at the condition of your teeth (e.g., are there any chips or cracks? Are there any infections or trauma to the internal structures of the teeth?), the health of your gums (e.g., do you have receding gums? Do you have gum disease or bone density issues?), jaw bones and muscles (e.g., do you have a healthy and strong bite? Are you a teeth grinder?), and finally the overall appearance (e.g., are your teeth an ideal shape or size? Are your teeth severely stained?).

What procedures are involved in full-mouth rehabilitation?
Full-mouth rehabilitation usually involves at least two or more dental procedures. The type of procedures you will undergo, and the length of treatment will depend on the type and severity of the issues you're dealing with.
Here are some of the most common procedures we perform during full-mouth restoration:

Teeth whitening
Bonding and contouring
Crowns and bridges
Jaw repositioning surgery
Dental veneers
Dental implant
Bone and tissue grafting
Orthodontic treatment

If you are dealing with severe and widespread smile problems, you may be an ideal candidate for full-mouth rehabilitation.
To schedule a consultation with the restorative team at Chevy Chase Cosmetic & Implant Dentistry, call us at (301) 652-9717 !