Posts for category: Uncategorized
By Chevy Chase Cosmetic & Implant Dentistry
December 21, 2018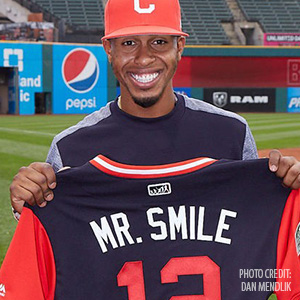 At the first-ever Players Weekend in August 2017, Major League Baseball players wore jerseys with their nicknames on the back. One player — Cleveland Indians shortstop, Francisco Lindor — picked the perfect moniker to express his cheerful, fun-loving nature: "Mr. Smile." And Lindor gave fans plenty to smile about when he belted a 2-run homer into the stands while wearing his new jersey!
Lindor has explained that he believes smiling is an important part of connecting with fans and teammates alike: "I've never been a fan of the guy that makes a great play and then acts like he's done it 10,000 times — smile, man! We've got to enjoy the game."
We think Lindor is right: Smiling is a great way to generate good will. And it feels great too… as long as you have a smile that's healthy, and that looks as good as you want it to. But what if you don't? Here are some things we can do at the dental office to help you enjoy smiling again:
Routine Professional Cleanings & Exams. This is a great place to start on the road toward a healthy, beautiful smile. Even if you are conscientious about brushing and flossing at home, you won't be able to remove all of the disease-causing dental plaque that can hide beneath the gum line, especially if it has hardened into tartar, but we can do it easily in the office. Then, after a thorough dental exam, we can identify any problems that may be affecting your ability to smile freely, such as tooth decay, gum disease, or cosmetic dental issues.
Cosmetic Dental Treatments. If your oral health is good but your smile is not as bright as you'd like it to be, we can discuss a number of cosmetic dental treatments that can help. These range from conservative procedures such as professional teeth whitening and bonding to more dramatic procedures like porcelain veneers or crowns.
Tooth Replacement. Many people hide their smiles because they are embarrassed by a gap from a missing tooth. That's a shame, because there are several excellent tooth-replacement options in a variety of price ranges. These include partial and full dentures, bridgework, and dental implants. So don't let a missing tooth stop you from being Mr. (or Ms.) Smile!
If you'd like more information about oral health or cosmetic dentistry, please contact us or schedule an appointment for a consultation. You can also learn more by reading the Dear Doctor magazine articles "Beautiful Smiles by Design" and "The Impact of a Smile Makeover."
As baby boomers age, the number of seniors needing dental care is expected to become larger than ever. People in this age bracket have a number of specific needs, some due to aging generally, and some due to the particular experiences of this generation. Tooth and gum decay, also known as periodontal disease, are common challenges for seniors. Late middle age and old age are when people are at extreme risk of developing cavities for the first time since childhood. There are two main causes of elderly people's periodontal problems which will be examined here: dry mouth and faulty fillings.
Dry mouth is scientifically called xerostomia. It occurs when people do not produce enough saliva. Seniors are at risk because a dry mouth is a side-effect of medications commonly used to treat anemia, incontinence, Parkinson's, diabetes, colds, anxiety, and depression, as well as of chemo and radiation treatment for cancer. When people don't produce enough saliva, they lose one of the body's main defense mechanisms against tartar-causing bacteria. Dry mouth can also damage teeth directly; people who have it are more likely to have cracked molars. According to the American Dental Association, 30% of people over 65 and 40% of people over 80 have dry mouth. As is the case with most health issues, smoking and excessive alcohol consumption may worsen its impact.
As fillings fail, they, too, contribute to tooth decay. One common misunderstanding about fillings is that they strengthen teeth. But often in the past, amalgam fillings (the kind made of mercury and silver alloys) were simply packed into a cavity without any effort to sculpt them to reinforce the tooth. Fillings naturally loosen after about fifteen years (usually fewer if they're made of plastic resin), and open new gaps for bacteria to colonize. Amalgam fillings also block x-rays, preventing dentists from detecting periodontal decay underneath them.
Regular brushing and flossing are as essential for seniors, including those who wear dentures, as for anyone else, but there are some other steps that can be taken to counter periodontal disease. Humidifiers can help keep the mouth moist, as can saliva substitutes which are available commercially or by prescription. Fluoridated toothpaste is also particularly important for the older members of this age group, who were not exposed to fluoridated water while the adult teeth were coming in. Seniors may also want to ask their doctors if there are any other medication options available to them which don't cause dry mouth and to try cutting back on caffeine and sugary snacks.
Dental fillings need to be replaced regularly, but newer ones are shaped with impressions from the patient's mouth and made from sturdier materials. Porcelain lasts longer than resin, and gold is still more resilient. It's reasonable to assume seventy-year-olds may go through another cycle of fillings, and oral cancer screenings are of vital importance in preventing periodontal damage at this age, as well. Perhaps most important to note is that baby boomers are much more likely to have natural teeth than previous generations were at the same age. That difference upends dentistry's traditional approach to seniors, as well as the assumption under which baby boomers received most of their dental services earlier in life.